The best way to get started with small business bookkeeping is to find a system that works for you and your business. There are many different software programs and apps available that can help you keep track of your finances, so it's important to find one that fits your needs.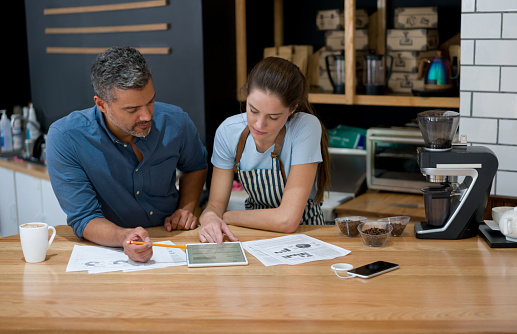 Few Things To Keep In Mind When Choosing A Bookkeeping System
Here are a few things to keep in mind when choosing a bookkeeping system:
– Ease Of Use:
The last thing you want is a bookkeeping system that's so complicated that you can't figure out how to use it. Look for a system that's easy to set up and use daily.
– Cost:
Bookkeeping software can range in price from free to several hundred dollars per month. Choose a system that fits within your budget and offers the features you need.
– Integrations:
If you're using other software programs for things like accounting, customer relationship management (CRM), or eCommerce, make sure that the bookkeeping system you choose can integrate with those programs. This will save you time by eliminating the need to enter data into multiple systems.
Once you've selected a bookkeeping system, it's time to start tracking your finances. 
Tips On How To Get Started
Here are a few tips to get you started:
– Set Up Your Chart Of Accounts:
Before you start tracking any income or expenses, it's a good idea to set up your chart of accounts. This is essentially a list of all the different types of income and expenses that your business has.
When choosing categories for your chart of accounts, make sure to include ones for both income and expenses (e.g., sales revenue, salaries expense). For additional guidance on setting up an accurate chart of accounts, check out our ebook here.
– Record Transactions Regularly:
The best way to keep track of the financial health of your business is by recording transactions regularly. Ideally, this should be done daily but at the very least should occur at least once per week.
What Are Some Common Financial Records That Small Businesses Should Keep?
There are many different types of financial records that you may need to maintain, depending on the size and structure of your business. However, there are certain core financial records that all small businesses should keep to stay on top of their finances:
Income And Expenses:
You'll want to record all of your income (money earned) as well as all of your expenses (things purchased with money). Important items to track include sales revenue, costs associated with producing goods or services, salaries for employees, and more. For additional details about tracking income and expenses, check out our guide here.
Income And Expense Report:
These reports show you a summary of your income and expenses over a specific period, such as monthly or yearly. At the end of each month or quarter, you should create an income and expense report so that you can see how much money your business has made or spent in that period.
Banking Records:
Keeping track of all transactions conducted through your bank accounts is essential for tracking your cash flow and managing payments to vendors, employees, and others involved with your business.
Typically this will involve recording when a transaction was made (date), what it was for (description), who the money went to (name of payee), and how much money you deposited or withdrew from that account (amount).
Accounts Receivable And Payable:
Accounts receivable refers to the money that your customers owe you for goods or services that have been delivered but not yet paid for. Accounts payable, on the other hand, is the money that your business owes to vendors or suppliers.
Maintaining accurate records of both accounts receivable and payable is crucial for managing your cash flow and ensuring that you're paying (or being paid) on time.
Inventory:
If you sell physical goods, it's important to keep track of what inventory you have on hand at all times. This information can help you plan future purchases, track sales trends, and more. For additional tips on tracking inventory, check out our blog post here.
Now that we've gone over some of the basics of bookkeeping, let's take a look at how you can get started with keeping track of your business finances.
Conclusion
Bookkeeping is an essential part of any successful business. By using the tips above and finding a system that works for you, you can keep track of all your financial transactions and make informed decisions about the future success of your business. Good luck!
For more tips or if you want to know more, click on you can try this out.